Grow Organic Spirulina is an online community of Spirulina growers, established by Ditsa Keren and Natan Gammer, independent researchers from Israel, in order to share and acquire knowledge and experience related to growing spirulina, and encourage new growers to get started.
Our research is focused on finding cost-effective, bio-available, and energy-efficient cultivation methods that can be used in multiple use case scenarios, and feeding methods that can qualify spirulina as organic.
After experimenting with various different methods of growing Spirulina, we finally managed to Figure out the perfect conditions for growing organic spirulina at home. We decided to share our knowledge and experience with the rest of the world so that everybody can enjoy good quality organic Spirulina. That's how this website was born.
Fast forward to 2021, this little side project has become a strong active community with thousands of members and dozens of discussion groups across the media all related to the cultivation, trade, and marketing of spirulina.
We see ourselves as market facilitators and welcome collaborations from all ends of the industry.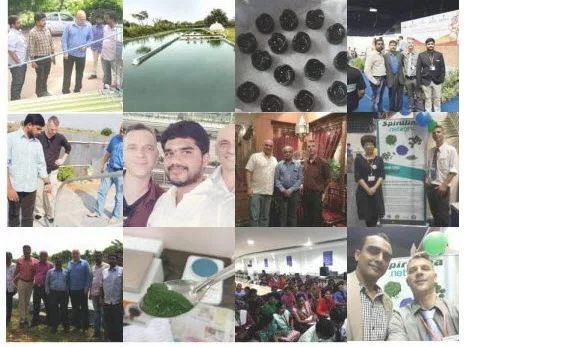 Sign up to our newsletter
Ditsa Keren
Ditsa is a freelance tech blogger and entrepreneur. Author of "
Be the Medicine, A Guide to Growing Organic Spirulina At Home
" and co-author of "
Algae Bloom – A handy Guidebook for Starting a Scalable Spirulina Farm
. She publishes regularly on
DNAweekly.com
, where she interviews experts in genetics, genealogy, and pharmacogenomics. She is also the editorial manager of
Poriutivit.com
, an online platform for Fertility Awareness practitioners, and founder of
Ethical Gadgets
, a platform that promotes conscious consumerism. She is a nature lover and an explorer with a strong passion for healthy living.
How it all began
Ditsa first started growing Spirulina in 2014, to help her partner who was having health issues. She quickly became fascinated with the blue-green algae growing on her windowsill and she began experimenting with it to find the things that make it thrive.
Ditsa's work
In between all the different projects she is involved with, Ditsa remains dedicated to creating a knowledge base and platform that spirulina cultivators of any scale can utilize to grow and prosper. She runs several discussion groups on
WhatsApp
and interacts with global spirulina growers practically every day.
Natan Gammer
Professionally trained with a strong and wide business background and scientific passion, Natan had been through several different paths in life before finally developing his love for organic spirulina. Today, he serves as the CEO of Spirulina.Network, a social business that strives to create new market applications for spirulina, such as animal feed, fertilizers etc.
Natan's Personal Story
In 2007, after leading a stressful daily routine and an unhealthy diet, Natan had to cope with numerous and sometimes contradicting medical observations, including chronic Migraines, Fibromyalgia, Lymphatic disorders, Intracranial hemorrhage, Arthritis, and excess weight. At the age of 34, Natan's Doctor had given him the formal announcement that within 2 years, he was due for a liver transplantation, after which he would sit in a wheelchair for the rest of his life.
Striving for a Healthy Future
Given the dramatic news, Natan decided to make a drastic change in his life and began to search for alternatives to the awful verdict he had been sentenced for. Among other things, he began to grow and consume Fresh Spirulina on a regular basis. Within a couple of years, Natan had lost 25 Kilos and significantly improved his health. Nowadays, he is devoted to promoting awareness of the algae that saved his life.