Last updated on July 1st, 2021
Over the last 3 months we have been spiraling the waves of internet communications with some very intense activity on the new global spirulina network whatsapp group – GSN in short.
March 2017 Update: The Global Spirulina Network whatsapp group has reached the whatsapp group limit of 256 members, and its still as active as ever! People who are interested in forming new local groups- please contact us through the comments at the bottom of this page.
The Global Spirulina Network WhatsApp group is the largest spirulina discussion forum in the world!
The group was opened on september 6, 2016 (originally called "Spirulina International"), by a number of spirulina cultivation professionals who wanted to create a hub for knowledge sharing and collaboration amongst international spirulina growers.
Shortly after the opening of the group, we have had the privilege of becoming group Admins and manage the daily group interactions. Natan Gammer, Ditsa Keren, Robert Shibin, Ke Harish and Respected Dr Shiva Kumar had joined and pushed the group to success, along with over 200 experts in the field of spirulina cultivation, manufacturing, shipping and commerce had joined the group. Since then dozens of Spirulina growers, exporters, scientists and researchers discuss about innovative technologies, possible partnerships and share growing advises and Academic notes.
While the majority of members come from India, the group also has members in countries like Kenya, Brazil, Egypt, Tunisia, Algeria, UK, US, Mexico and Israel.
Most members are spirulina growers, but some also offer their services as consultants, pond constructors and providers of growing, harvesting and drying equipment used by the spirulina production sector.
There are members with high academic knowledge and experience both in research and in product development and some are pure business men seasoned in international business development.
GSN is A mature professional team with over 200 members worldwide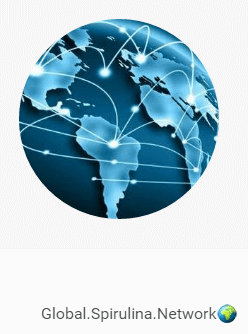 Members of the global spirulina network whatsapp group normally help each other out in many ways, including the sharing of advanced knowledge, provide connections to establish business ties and sometimes even sent culture to each other.
The group provides a very interesting and accurate insight and viewpoint on the state of spirulina industry in the world, and we are eager to continue learning and exploring opportunities together.
One of the main topics that comes up as a burning issue is the sales and marketing methods in international markets and the shipping methods and solutions to international clients, as well as other business topics.
In the meanwhile, we encourage all of you to strengthen the bonds by joining the live spirulina network on this page.
Thank you Avel Jay for making this happen.
Thank you members for believing in the purity & quality networking provided by all members of the GSN global spirulina network whatsapp group.
For day 125 we Shared a Spirulina Harvest estimation Calculator – served as service to the community to assist in day to day real needs of cultivators and growers of spirulina.
Many more advanced tools that will also include scientific Calculators, Advanced content and unique knowledge of the trade will be available soon, so stay tuned.